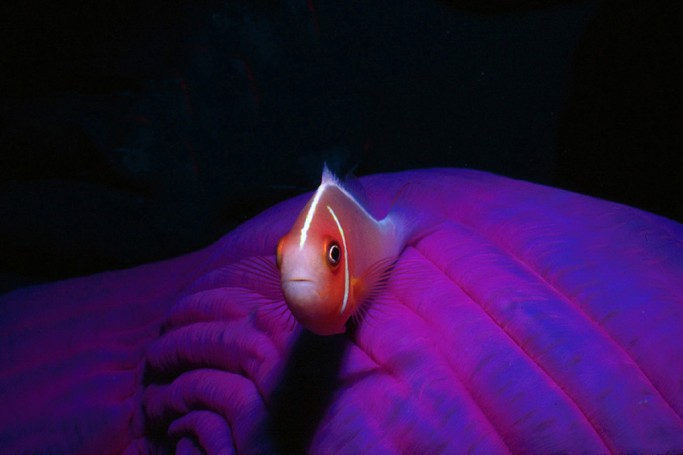 Photographer: © 2014-2016 Dave Waselle &middot All Rights Reserved.
Juvenile Skunk Clownfish | Solomon Islands
This little, juvenile skunk clownfish was in a smallish anemone all by himself. He was ruler and protector of his own little kingdom. I spent some time on this location shooting him. I even had the patience to wait for some scatter to clear caused, again, by a curious, over-weighted diver. As I continued to shoot this active little guy, the anemone began to get annoyed and eventually closed up completely. I noticed the unbelievable color of the anemone when my modeling light was on it. I decided to get creative with the lighting. I positioned the strobe above and to the right of the fish and fired away.
The result…a dramatic picture of him seemingly resting on some alien surface. Notice the shadow coming towards the camera as well as shadows in the rolls of the anemone body. Effects that are more difficult, but possible, to achieve with digital, easier with film. I enjoyed my time with this little fellow and remember every detail of my experiences photographing him. This is why scuba can be so enjoying and why it's good to have a camera along to capture fond memories.