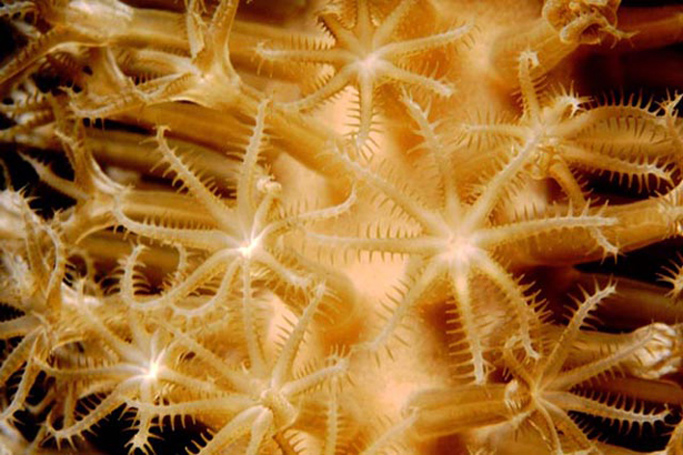 Photographer: © 2014-2016 Dave Waselle &middot All Rights Reserved.
Gorgonia Coral | Fiji
In Fiji, it is all drift diving. If you see a subject of photo interest, you hope it's in a crevice so you can duck into it, out of the current. Such was the case here. A normal appearance of Gorgonia is that of a bunch of twigs sticking up from a coral head. Due to the currents bringing in all sorts of nutrients for feeding, this coral was wide open, trapping bits of planktonic matter in it's tentacles and eventually passing it to the center where the "mouth" is located. I hadn't really seen polyps this large before. I had a 1:1 extension tube on one of my cameras and captured this shot. Having the film processed on the live aboard, we projected the image that night and everyone aboard was in awe of the beautiful, rich, unusual color…me included. This is why you shoot everything you can. You never really know the potential of the results. With digital, no excuses not to, unless something is broken. With a large memory card, a nice strobe that allows a lot of images with a quick recharge time, you are in photography heaven.