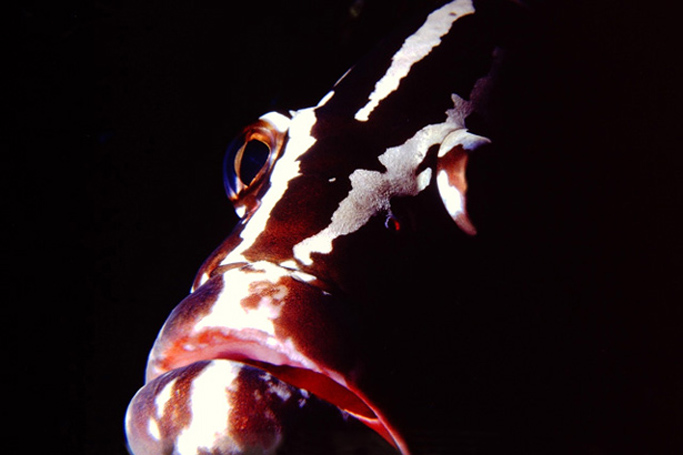 Photographer: © 2014-2016 Dave Waselle &middot All Rights Reserved.
Nassau Grouper | Rum Cay, Bahamas
It's amazing how taking pictures of one critter underwater will sometimes take you to your next subject. This was the case here. It's rare that you catch a soldier fish outside its cave-like hiding place in the daytime, but I was shooting one and as he ducked for cover…look what I found!!!
You will often read a quote from a great friend that said: "a good photographer makes their good luck happen". I'll be honest with you here…I was the luckiest man on planet earth at this very moment. As luck would have it: I had a 28 MM lense so I could get close, the grouper let me get close, I had the good common sense to shift the power to low on the strobe (okay, that was skill), I was using a Kodak film which favored the color red (compared to other films) and made any dark blue background black, and I had a long arm on the strobe and extended it to the left and slightly in back of the grouper. What was really lucky, I fired the shot and startled by the flash, the grouper split. I only got one picture and this is it!