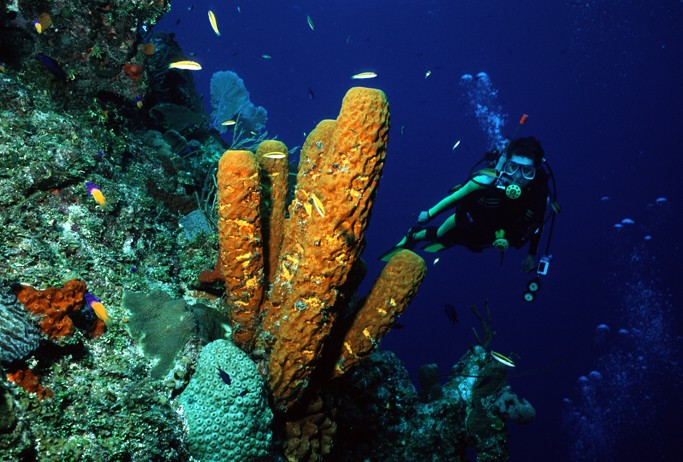 Photographer: © 2014-2016 Dave Waselle &middot All Rights Reserved.
Yellow Tube Sponges | Little Cayman, Cayman Islands
There are species of tube sponges that flare out a bit near the top and are called Trumpet Sponges. I'm fudging here a little to come up with, in my own self-deprecating sense of humor, a clever title for the Fine Art America site.
With neutral buoyancy, it is so easy to hang off a wall and set up these types of photo opportunities. I have seen over-weighted divers suddenly grabbing for something to keep them from sinking and it's a wonder that there are any reefs left to dive on. You do have to still remember, with neutral buoyancy control your breathing.  If you inhale and hold it (which you can do if you tense up a little to get the shot) you will start to ascend. Exhale to much and you descend.
Still, it's no where near as bad as just being over-weighted. It's a lot to remember while you're down there. Control breathing, compose the shot, check the modeling light positioning on the subject, wait for the model to exhale a few bubbles, the biggest is being ready when the model hits that precise point you want her in that shot and being ready to snap that shutter. Sounds easy…right?
A little preparation, a little practice, and bracket, bracket, bracket. Don't take one picture and think you nailed it. When you see the image larger than life and you notice an issue with it, you'll find yourself saying, "gee, I wish I had taken a couple more."