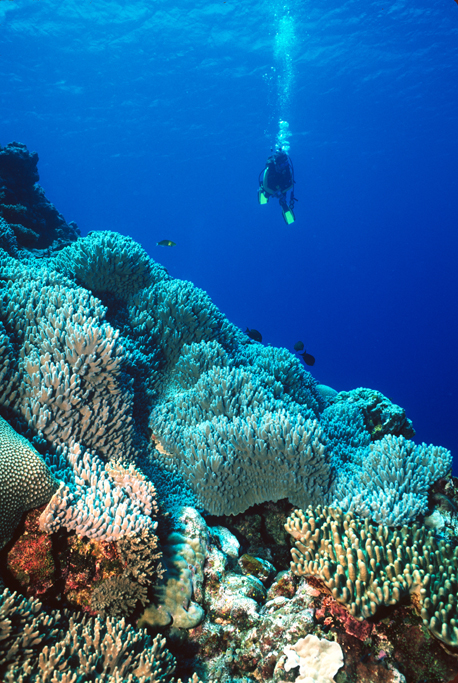 Photographer: © 2014-2016 Dave Waselle &middot All Rights Reserved.
Diver Discovering Large Coral Reef | Yap, Micronesia
When you go to different dive destinations, they will boast about their visibility at their sites. Usually the formula for this is: you are at the surface and see the reflective light of the bottom 100′ down. Horizontal visibility is usually 60% to 70% of that. On a dive in Yap, I kid you not, I was on a dive that, I swear, had 200′ horizontal visibility. They have a large variety of sloping reefs as pictured here. Due to their location on the outer side of the atoll, the visibility is phenomenal.
Here in this shot, my model/wife is easily 20′ to 30′ away from the camera. When you shoot like this under most normal conditions, the diver would be barely visible. There reef itself is 10′ away. I had an available light "f" stop and fired the strobe for flash fill to lite the coral and bring out the color.
During WWII, Yap was fighter base for a squadron of Japanese Zero fighter planes. When the US started their island conquest campaign, this base was attacked and strafed to eliminate the threat
and remnants of the damaged, shot up Zeros still remain as a grim reminder of the horrors of war. This wreckage pictured here, was approximately a 400 yard walk from the airport. I was informed by a local that there were larger, more intact fighters that the Japanese came to island and retrieved to take back to Japan for placement in a museum.