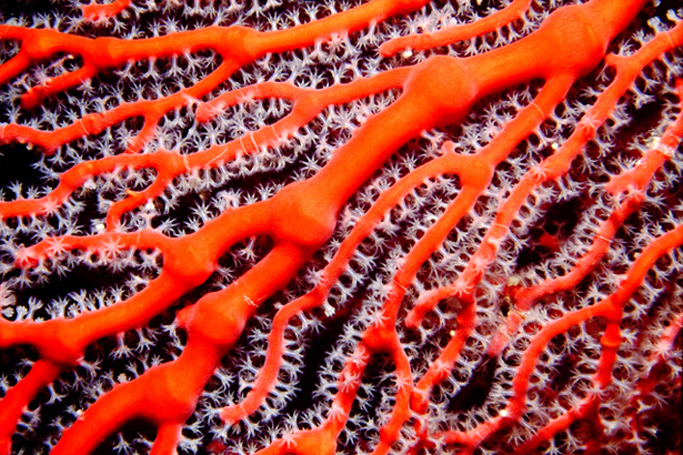 Photographer: © 2014-2016 Dave Waselle &middot All Rights Reserved.
Red Sea Fan | Fiji, South Pacific
Again, shoot everything. I, having a background in fine art, love this shot. It looks as if the the artist did a wonderful job of having a controlled paint spill/run on the canvass. The title is derived from a line in a TV commercial for a spray paint…"no runs, no drips, no errors". In this case there are runs, drips and errors.
The body/skeletal portion of the fan is a bright, raw red. The polyps, opened up and feeding, are white creating a wonderful, natural contrast. You will see, in my portfolio, what could be construed as specimen pictures. With my art background, I like to shoot things, on more than an occasional basis, with a more artistic-like approach. When this world was created, there was an enormous amount natural beauty created for us to enjoy. It's amazing how much of it remains untapped.
In the art business, on the printing side, you very often look through a 10 power glass to examine color separations. One day, clinging to the outside of my office window, was a moth with amazing color patterns on it's wings. I grabbed for the glass and what I saw was amazing. In shooting the wonderful macro world of the oceans and seas, I hope to enlighten people to these wonders hiding in plain sight under the waves. You, as a photographer, have the inside track to take advantage of this.