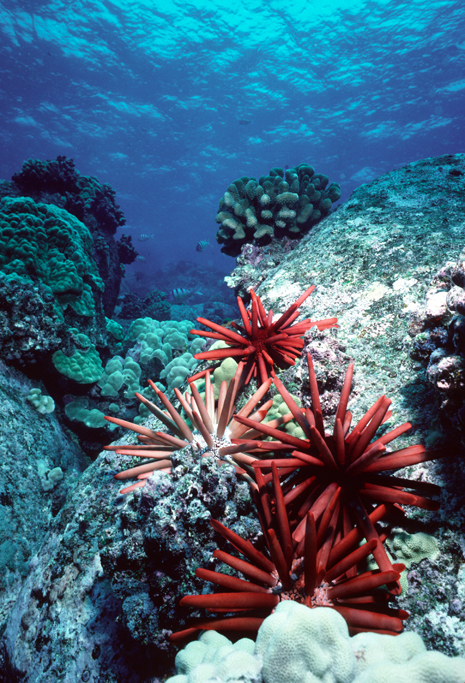 Photographer: © 2014-2016 Dave Waselle &middot All Rights Reserved.
Pencil/Slate Urchins | Kona, Hawawii
There are sea urchins and then there are pencil urchins. Several species are of the spinney variety and are even found in shallow tide pools. Step on them, and it has been done on several occasions,  you have serious problems. It's like you have the grandmother of all splinters stuck in your skin reminding you of your dumb mistake in every step you take. They are difficult to remove because they have a barb at the end of the spine.
These slate/pencil urchins are found in warm Pacific waters and are beautiful in their own right. Even there skeletons are gorgeous.  The spines are the thickness of pencils and some get to be as long. But they do have a slate-like texture, thus the name. Did you know that they are cousins to the starfish?
This dive site was in 20′ to 30′ of water, a bright, clear sunny day. Checking the light meter, I had more ambient light than what was required as a safe distance of the strobe to the subject. But I had the challenge of trying to get the colors. I put the strobe on low power and reached back for a little more distance between light source and subject. In essence, I created a "flash fill" scenario. I coud barely make out the large dot from the modeling light due to the brightness. The reds being filtered out by the sea water, I fired the strobe and the reds did illuminate. I like the "albino" looking one in the center.
Hawaii Trivia Fact: If you are afraid of snakes, you can really relax in Hawaii. They have NONE!