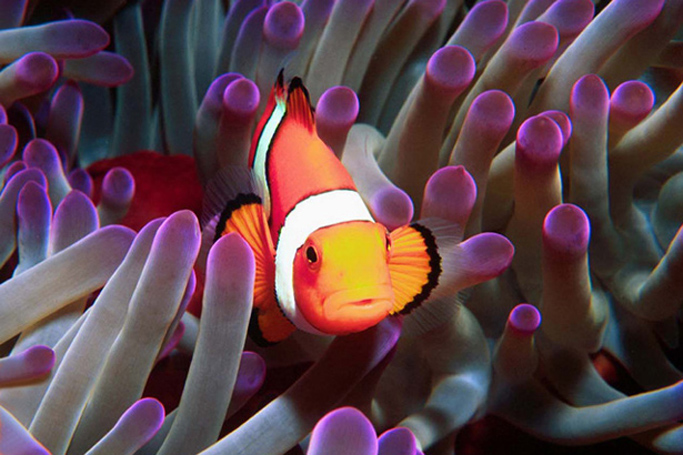 Photographer: © 2014-2016 Dave Waselle &middot All Rights Reserved.
Percula Clownfish/Anemone | Fiji
In case you haven't heard…I like clownfish. It's almost impossible for me to cruise by one with taking a photo. In this purple tipped anemone, the colors provided by nature are truly incredible.
This species of clownfish does not get as large as others. So, I shot this with a 3:1 macro set-up. 35mm lense on a 3:1 extension tube mounted to the Nikonis III  body. This shot was taken in 1999 in Fiji on Fugi Velvia 64 ASA speed film. Camera is on an even plane with the fish. My finger is poised on the shutter control and the timing of the anticipated appearance was right on.
Now this isn't an indication that I always get these kind of pictures. Someone once told me that baseball was a game predicated on failure. Think about it. A guy getting a hit 1 out of 3 trips to the plate is an exceptional hitter. That means he fails 2/3 of the time. The same can be said about shooting U/W photography. Keep shooting. As in baseball, the more you practice, the better you get.
Shooting with digital may not give you some of the softness and shadowing that film does, but it affords you limitless photo ops under water with the size of some of these memory cards. Unless you shoot a lot of video on the card, think about how many pictures you could get on a 32 gig card? Digital gives you an incredible amount of clarity and detail and film provides a softness and dramatic shadowing.
Getting good and comfortable under water requires some effort on your part.  Don't take a dozen bad pictures and give up right away. Analyz them and try to determine what you did that as wrong. Next dive…try to correct it.  Good shooting!