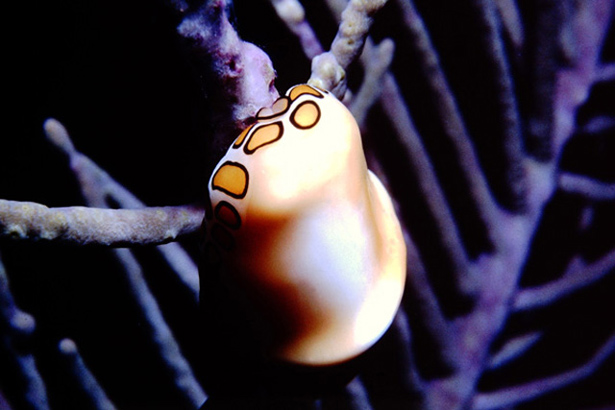 Photographer: © 2014-2016 Dave Waselle &middot All Rights Reserved.
Flamingo Tongue Snail | Harbor Island, Bahamas
Flamingo Tongue Snail | Harbor Island, Bahamas
Flamingo Tongue snails can be difficult to shoot. Getting the "head" area is troublesome due to the low profile of the snail. 
The "foot" portion of the muscle is rarely exposed. There are several examples of this on line, but to catch them in that position is rare. In this case with the main photo above, you see the head  but only the siphon is visible. The angle of this photo is what is difficult. When shooting macro, you have a depth of field that is approximately 1/8″ of distance. That depth of field is the area that is in focus. The majority of the head area is in focus here. You can see the shot getting softer in focus past the snail which gives the picture the artistic quality. It's not just a specimen shot.
As you go from macro to wide angle, the depth of field increases. However, it is not a carved in stone formula. As you open the "F" stop to allow more light, the depth of field decreases. When you master this, it will show you know what you're doing regardless if you are shooting film or digital. Some little known trivia about Harbor Island, it has the world's largest pink coral sand beach.